6 Names to Remember this Upcoming NBA Draft.
1. Moe Harkless, St Johns, SF
He's a 6'9 athletic forward with a nice midrange game and the ability to rebound, projected to be drafted mid to late 1st round. With averages of 15.5 ppg and just under 9 rebounds a game, Harkless proved in his first year he was ready for Big East competition, I'm just worried he may not be ready for the NBA quite yet. Harkless looks like an NBA player right now with his height and length, but he desperately needs to work on that 3point jumper along with moving without the basketball. I definitely would've liked to see Harkless back in St Johns next season but if he gets drafted by the right team, they may be able to develop a longtime NBA starter.
2. Quincy Miller, Baylor, SF/SG
Miller is a legit 6'10 (with shoes on) SF with bigtime game and is one of those players who feels like he's always the best basketball player on the court, whether that's for better or worse is up for debate. He was a key contributor to Baylor's success last year but is another guy who desperately could've used another year or 2 in school. There is no doubting Miller's talent and potential, he's shown ability down on the low block against college defenders and can knock down open jumpers. However, if Miller wants to even think about playing on the low block in the NBA he'll need to lock himself in the weight room this offseason. Miller also will need to become a better decision maker and shooter off the dribble. Another year of seasoning at school could've made Miller a top 5 pick in a draft projected to be very weak already, he could end up being a major steal late in this 1st round.
3. Kevin Jones, West Virginia, SF/PF
Kevin Jones is one of those now typical overachieving, undersized power forwards. He has shown himself to be an elite rebounder in college with his rebound averages going up every season with his minutes until a 10.9 per game average this past season. He's drawn big comparisons to Miami Heat forward Udonis Haslem as they are both tough, undersized defenders with the knack for rebounding. Haslem may be a much better midrange shooter at this point then Jones but he's not a bad one himself. Where Jones really does his damage on offense is with offensive rebounds and cutbacks (51% from the floor last season), he'll even hit the occasional open corner 3 but his 26% 3pt average suggests you don't want him taking many of those. Haslem may not be a star player but he's a guy you need on a championship team and you can get that with Kevin Jones late in the 1st or early 2nd round.
4. Royce White, Iowa State, PF
One of the more intriguing stories on draft night will be Royce White, first because of his legal troubles a few years back that prevented him from seeing the floor in Minnesota, and also due to him revealing his anxiety disorder to the mainstream public a few weeks ago (http://espn.go.com/mens-college-basketball/story/_/id/7505656/iowa-state-royce-white-battle-college-basketball). When you speak of Royce White the basketball player though, you have to mention him as one of, if not the most versatile bigmen in the NBA draft in a long time. He's 6'8, 26'1 with the a nice back to the basketgame and an even better face up game. Averages of 13 points, 9.5 boards, and 5 assists a game back up the versatility talk. He's got some work to do on his conditioning as he's been said to be out of shape occasionally, on keeping the turnovers down, and on his midrange jumper, but with a nice looking shot that shouldn't be too much if he puts the work in. There has been strong talk that the Celtics have made him a "promise" which has lead to White canceling all other workouts, Ainge loves versatility so that promise wouldn't shock me at pick 21 or 22 in the 1st round.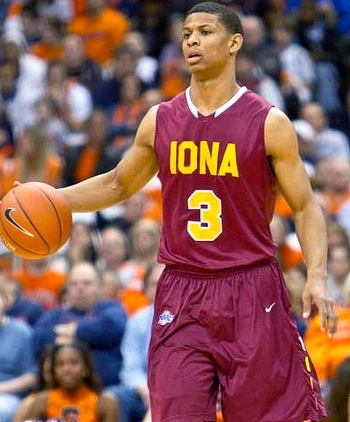 5. Scott Machado, Iona, PG
Standing at 6'2 206 pounds, Scott Machado has the size and strength you'd in a PG, with the elite speed and court vision that you LOVE in a PG. Machado finished 2nd in assists in the nation 2years ago and led the nation this past season with 9.9 assists per game, yet he's still so under the radar. Machado isn't an elite athlete, but posses great quickness, an improving jumpshot (49.5% FG, 40% 3pt last season), and is a great rebounder for his position (5rpg). Last season he along with Mo-mo Jones led Iona to their first NCAA tournament bid since 2006, although it'd be something they'd like to forget after cruising to a big early and lead and the letting BYU comeback from 25 down to get the win. Nevertheless Machado has the chance to be THE steal of this draft being projected as a 2nd rounder, his ceiling is much higher then that draft status would lead to believe.
6. Doron Lamb, Kentucky, SG
I believe Doron Lamb could make as big an impact as anybody in this draft in his rookie year. Lamb may end up on a playoff caliber team late in the 1st round, (Chicago Bulls would be a great fit) and he'd be able to be a 6th man from the start. He is instant offense, can score both off the dribble or spotting up from 3, and does so very efficiently putting up percentages of 47% FG, 46% 3pt, and 83%FT. He does have that tunnel vision occasionally that'll cause him to force bad shots, but playing on that Kentucky team last year he showed that he can be smarter and that he's great in late game situations. Being undersized for the SG position and having no PG skills whatsoever will cause him to drop in this draft, but it'll be for his benefit I think, because in my opinion Lamb is the prototypical 6th man.